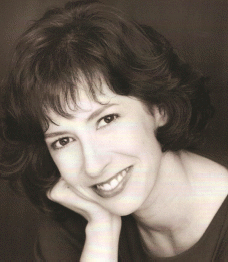 Describe what you do.
I am a free-lance theatre director and teaching artist.

How did you break into this business?
Not sure if I can think of an event where I "broke" into this business. I have always known this is what I wanted to do – even before I knew what the name of it was. Been directing since I was 13 years old – maybe even before that if you count the shows I forced my cousins to stage in our living room.

What exactly do you do? what's a day in the office like for you?
My "office" is many different rehearsal halls, classrooms, theatres and my car. A normal day consists of….COFFEE first - before anything else. Then, responding to emails from producers, designer, technicians, and actors; teaching acting class, administrative meetings; meeting with my graphic designer, Maura Feingold, to discuss the poster design for my next show; rehearsal with my high school students; more coffee (or tea); dinner while I look over my rehearsal notes; evening rehearsal; transit back to East Bay; checking email once more; writing rehearsal notes for the next day; watching anything on Ovation or BBC America and, finally, sleep. Wake up. Repeat.

What would you say is your "claim to fame" i.e. have you worked on any projects that the public might be familiar with or that you are particularly proud of?
Future Me at TheatreFirst. I love plays by international playwrights. This is a wonderful and frightening piece about pedophilia by the acclaimed Stephen Brown. It was one of those incredible collaborative experiences – ensemble of incredible actors – Dana Kelly, Dana Jepsen, Allison Studdiford, Maggie Mason, Peter Ruocco, Ryan Purcell; fabulous design team – including Wesley Cabral, Jeremy Cole, Dale Altvater, and Stephen Klems; amazing script; extremely intimate performance venue – Berkeley City Club. One of my favorite comments from an audience member was – "Wow…that was….incredible. Very disturbing. I couldn't sleep the entire night after I saw it. Thanks a lot." My other favorite project was working with Richard E.T. White as Assistant Director on his production of The Goat, or Who is Sylvia? at A.C.T. Richard has been my mentor for years. I have worked with him on numerous productions at Berkeley Rep and ACT. He has taught me everything I know about how to be the best director one can be.

What are you working on currently or have coming up (insert shameless plug here!)?
IPH…. By Euripides Adapted/translated by Colin Teevan

Words to live by/your mantra?
There is a prospect of a thrilling time ahead for you. (Fortune Cookie) or "This is the celebration of the human potential." -Lorenzo Pisoni
What are you currently reading?
The Mapping of Love and Death by Jacqueline Winspear

What are you planning to read next?
The Strange Case of Dr. Jekyll and Mr. Hyde

What was the last fun purchase you made and from where did you get it?
Mini post-it notes for script notations. Kinokuniya Stationary Store in Japantown. I am a sucker for anything "mini" sized.

Any recent discoveries this past week that you can share (i.e. new Web site, an interesting person or object, piece of trivia)?
Theme Magazine –great eclectic magazine with a theme that is curated by a different person each time. Like going to an art gallery in a magazine.

Favorite getaway:
South Lake Tahoe.

Favorite entrée to order and from where:
Malawach at Saul's in North Berkeley.

Favorite drink:
Um…did I mention I like coffee?

Favorite vice/ Guilty pleasure?
I am a biblioholic. Please do not take me to an independent bookstore. I will spend uncontrollably. It really is a sickness.

Hometown
Now – Richmond/El Cerrito
Then – Phoenix, New York, Seattle

First real job since formal schooling?
Do I have to admit I was a sales rep at a Heath Club?

What advice would you give to yourself 10 years ago?
Relax. You will do what you love. Breathe.

What keeps you up at night?
Whichever play(s) I am working on.

Three people, living or dead, you'd have over to dinner?
Can't limit it to just three….Richard E.T. White, Rene Magritte, Oscar Wilde, Hallie Flanagan, Juan Mayorga, Georgia O'Keefe, Nakissa Etemad, L. Peter Callender and Lillian Hellman.