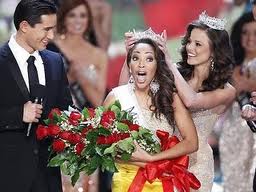 Well I finally get my chance. Unique Jenkins has just told the director that she is not able to perform for the student matinee performances because she has school. Now is my chance to be Lucy Ricardo and have my share of the limelight. I have been watching rehearsals for weeks and anytime an actress was out ill or late (which didn't happen frequently enough for me) there I was ready to "step in" and lend a "helping hand" [Cue evil laughter]. Finally someone is not able to fulfill their obligations in their role [cue Miss America theme]. So the understudy must go on, but wait there is no understudy [more evil laughter].


I hear a discussion in the background as I easily try to play as if I am not paying attention. The stage manager mentions to the director that they need to find a replacement. "Me, ME, ME, ME"! I scream inside my body. But my face remains calm. I can see from the corner of my eye Gregg (the Stage Manager) and Peter (the director) looking around. "Why not Sherri, " says Gregg. With a wide-eye doe deer look – scratch that – with a look of a homeless puppy with dewey eyes I softly ask, "What? Is someone not able to do their role". Okay, Sherri. Hold it together – don't look too eager or you'll blow it – careful . . . don't smile. After a gentle sigh, I nonchalantly said, "Sure I can do it if you need me."

Now is dress rehearsal. I have two lines to memorize – well one of the lines is shared with some other people – but we know the show is really about me. And then I get a big tap dancing number. Can I tap dance? Can I tap DANCE? My tap dancing is like nothing ever seen before. Really, it is like nothing ever seen before, because I haven't tapped or danced since the age of 10 or 12. Let's see I learned the flap where you brush your tap on the floor and then a light stomp. 1 and 2 and 3 and a 4 – brush, stomp – brush, stomp – brush, stomp - brush, stomp. Now what else did I learn. Oh, yes. The buffalo shuffle. I put my hand out to the side and buffalo , buffalo, buffalo, buffalo, ball change. And other side buffalo, buffalo, buffalo, ball change. Now I have two steps down and I am ready for my spotlight.
Dress rehearsal is here and Unique Jenkins is not. I get to go on the stage with everyone else and do her part. The lights are so bright and warm – I can hear the crowd now. Peter comes on stage – like he often does – and says, "when this happens then you go hear and when that happens - this is happening" or blah, blah, blah something. I am just waiting for my part.


Okay, everyone is quiet - I hear Gregg say "action go" I'm on the stage – but wait! Peter is on the stage too – AND HE IS DOING A TAP DANCE NUMBER - HE'S DOING UNIQUE'S TAP DANCE NUMBER. In the words of the great Whitney la Houston – "Oh, hell to the NO!" I run out on stage and with a gentle – yet firm push – shove Peter out of the way. The music is playing I am tapping along, but wait – this music is fast. Tap, tap, tap, ratta, tatta, tap, tap, ratta, tatta, tap, tap, tap. I am out of moves and the music is still going – and it is double time of what I thought we were doing. Move faster Sherri, dance faster. I don't know what to do any more. Do wings, wings, wings – fly your arms around and just pretend. Now do that leg scissor shuffle thing you see that jazz dancers do – it's not tap but it looks like it. A funny image of Young Frankenstein creeps into my mind as the monster howls "Puttin' on the Ritz!" - Sherri pay attention. Just keep doing that leg and arm thing. What?! The music isn't over yet. Okay do side hitch-kicks. Cross over, lift heel and kick. Repeat other side. Cross over, lift heel and kick. Repeat the each side 3 more times. Now turn around like wonder woman (just because I couldn't think of anything else to do). And FINALLY, the actor to break all the commotion Malvolio (aka Michael Kelly) comes on stage. My gosh, I have never been happier to see Malvolio and with relief I get to run off stage for fear of Malvolio, but in reality I needed to breathe.

Backstage I'm keeled over like a marathon runner (an out of shape marathon runner) who left his lung back 10 miles ago. Then I hear Gregg's voice "we need to run that sequence one more time". WHAT????
We run it five or six times. I am wondering at this point who is messing up so I can kill them once I get the feeling back in my lungs.
- Sherri Young